Oxygen and a little About Me
Welcome to What I would Like You To Know About Me !
Who's hiding behind this website and particularly the Oxygen?
I was always eager to know what hides behind a computer interface. This is the reason why I have learned computer programming.
But what hides behind an Oxygen?
It's me named Felicia, a human being like you, a woman middle age and more technically gifted.
Here is the short story of a peculiar interest about me and:
Oxygen for everybody.
I'm not a writer, not in health care, business or traveling. Even so, sometimes life makes you a traveler; opens doors for business or become a writer in a field as health.
My journey in life as a traveler started more than twelve years ago when I and my husband quit our jobs as engineer and programmer analyst with more than 17 years experience in the same companies, took our teenage girls, left our house unsold with everything inside: furniture, appliances etc, packed like we were going in vacation, and immigrate from Romania to Canada.
The new life we were trying to build here wasn't easy. But this is another story about me and I don't want to rarefy our Oxygen that has become so thin lately.
Three years ago my husband got a contract (2000 km distance) far away from the home we finally settled and lived happily with our two lovely daughters. So we left our girls who are responsible adults now, to take care of the house, and we continue our travel to capture the essence of "life goes on".

In order to move in the new place I had to quit again the job that I was doing at the time. I'm not a quitter but this time felt a relief of leaving it.
Women are not so fortunate when it comes to a technical job. All I can say about me is that was a physical work, not in my profession and the worst part is that took away all my weekends and holidays.
Must be some kind of job that brainwashes your mind (otherwise I can't explain why I kept that job for six years), but also brutalized you and decay you every day little by little.
Go on, you'll have a great time!
Well we fell in love with the place where we had to live for a while, the summer time in Northwestern Ontario. This was the most gorgeous, legendary wilderness with great outdoors, and a whole new world of fishing that I ever experience in my life. I couldn't wait for the weekends that I haven't in years, to go out.
The week was kind of frustrating for me without a week job as I was use to. Something was missing, and is not even my time to retire. The idea that we would probably have to move again every time my husband gets another contract, got me searching the Internet for some work at home.

I came across SBI when I was looking for a way to build some revenue from the Internet. I liked what I read; I liked Ken's message, the sincerity, the solid results, and more. I bookmarked it, but didn't buy it immediately.
As you'd expect, the search for work-at home-related stuff opened up the world of affiliate marketing, Internet marketing, etc. (which came in full force with all the propaganda, noise, scams, etc. etc.)
I looked up every prospect of working at home; signed up with over 50 websites as an affiliate that says "your Internet marketing skills can lead to additional income". After that I told myself what's next. I needed a website to promote all those affiliate products.
Well I have computer programming skills but Internet marketing skills is totally different. Even if you are the best computer programmer it is not enough to build a website and to be successful.
Marketing yourself on the net can be very trying. Sometimes affiliates don't work out and it is a learning step.
I did a lot of things in my life, the best worker everywhere I worked, honest and loyal but I never liked to sell. I am rather a VIP customer probably like most of all. So how can I do business which means selling after all when you are not good at?
I remembered SiteSell and decided to read its case studies (and more case studies) and then its free books and soon, I was hooked.
There was no turning back.
I've researched things that I'm truly passionate about...and I'm slowly turning those into an SBI site the homeland of oxygen-review.com.
Choosing your best site concept is not always as obvious as you might think. Brainstorm It! and Niche Choose It! show you the best path for your particular business, reveal some surprises, and help you make the right choice.


So the question is why I chose Oxygen to be my niche?
As everyone in their lives encounter health situations and for one reason or another, they look for the best remedies that might be right.
About me, six years ago I discovered Oxygen Elements Plus this being its former name, which is now called Oxygen Elements Max to be a very promising supplement (see Health Supplements Page). I was skeptical, I thought: Yeah right; this is too good to be true.
How much do we have to worry?
I did some research to see what others are saying about this oxygen. I found only good things, but I did not buy until I got in poor physical health, I was suffering from a very severe anemia (caused by excess bleeding, hemorrhage), heartburn, frequent headaches, joint and wrist pain, back pain.

The concept of creating more oxygen inside the body at the cellular level sounded very promising to me. I decided to give it a try and began taking the liquid oxygen formula. After two weeks my blood work was restored to normal without taking any other vitamins or iron.
My quality of life is much better now, having no back, joint or writs pain and heartburn are gone, that all I can say about me. As a matter of fact, since I started taking it five years ago, I have not had a cold or the flu, nor any type of infectious and disease. Oxygen helps us to live, help us heal and why not even opens doors for business.
I feel more energized, enjoy foods, and sleep better so Oxygen Elements Max will be part of my health regimen for now on.
Don't be afraid; in this site I don't sell anything. I only give you my deliverance regarding Oxygen for a Healthy Living and a little about me. It has no insider secrets; there is not even a pushy salesperson behind it but your trusted friend who doesn't want to be "left in the dust". Just kidding.

In other words, how can I share a little about me and Oxygen with you and spread the word out?
Creating a website and giving you my reader the piece of information to the questions and mistrust I put myself years ago, and to motivate you, to start in these life-giving forces of oxygen, the invisible social atmosphere in which we unconsciously exist and strive. Now is available to us even in a form of liquid supplement.
When I see people ill I think of Oxygen and about me, years ago. My husband tells me that I'm obsessed with Oxygen even so he uses every day the liquid formula. I'm not telling anymore to anyone about me and Oxygen, I write about it. You decide if it is right for you or not.
My journey continue back home
So here I am. Back home, find my work at home (oxygen) being health related and about me a bad writer, and doing business that is something I was never good at.
Every single day, more and more websites come online. Most of these sites will go absolutely nowhere. What's the best way to be heard around the world? Build a website that you can be heard.

Site Build It! (SBI!) is the only all-in-one site-building, site-hosting, and site-marketing product that makes it easy to build a professional, popular, and profitable business.
Everything you need to run online business is here. SBI affords you to build a BUSINESS.
Want more "passive" or "residual" income, or to have more independence or freedom to use your talents more than a typical job has to offer? Or maybe you just need the extra income to support a family, pay for an education, etc.; have a hobby? A passion?, any Interests or Experience?
Even without programming skills you can create a Web page yourself using off-the-shelf software as I created for Oxygen.
No, I haven't lost my marbles...
I'm actually being serious. About me, I have necessary skills to build a website as a programmer. Well I didn't use them. You know why? To see for myself what the program and its tools can do. Now you can see too. So the site was built as I had no knowledge in computer programming, like any other user will try to use.
Yes, there are easier ways to build a Web site. However, online profits require more than just having a collection of Web pages. SBI! includes all the tools and a proven process required to build a long-term, profitable e-business.
SBI! makes online business success do-able. Anyone can succeed with an all-in-one process, tools, and guidance.
Have 2 ½ minutes? See the scientific proof of how oxygen-review.com was created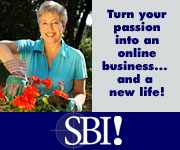 The Non-English Landing Pages
My Review about Oxygen spreads around the world for Healthy Living.
What can be more rewarding than seeing that people can enjoy the abundance of more Oxygen no matter where they live and know a little about me. Every month the site has visitors from over 90 countries around the world.
Are you a non-English visitor?
If you are, I have a landing page that tells you about SBI in your "home" language.
I currently have pages in French, German, Spanish, Dutch, Italian, and Chinese but I'll be adding others soon.


Click here to read French page
Click here to read German page
Click here to read Spanish page
Click here to read Dutch page
Click here to read Italian page
Click here to read Chinese page
SiteSell.com was established by Dr. Ken Evoy in 1997. His series of books (now free) have helped hundreds of thousands of entrepreneurs and small businesses.
Make Your Content PREsell! and Make Your Words Sell!, formerly books sold by SiteSell, are now free. They are literally the dynamic duo of "Web-writing."
When it's time to create your site's Look & Feel, as I created oxygen-review.com, Solo Build It! provides fully customizable, easy-to-use templates. You can choose and create a professional-looking presentation, even if you have no design skills. And if you're a designer, you can create and upload your own.
This page shows a range of styles.
Solo Build It! has a no-risk, 30-day money back guarantee. It's a risk-free decision that you can make with confidence and peace of mind.
New tools are added continuously so you can feel secure that you'll always have the most up-to-date site-building and marketing tools.
Now, when you know a little about me you can write me, just click
"Contact Me" link
or button. I'll be glad to hear your story
about you
and
Your Oxygen
. Or You can Join in and share
"Your Oxygen"
story with the word!
---
Return From About Me to Oxygen Review Home Page


---